What are the best and favorite kids books? It's easy enough for me to make a list of my favorites, which are mostly YA, but what are kids reading? And what about Middle Grade books? Well, I've got a perfect sample right here at home, so I asked them.
My youngest, age 7, favors Junie B. Jones. She's a spunky little girl who we follow through her early elementary school adventures.
Both my middle and oldest kids listed Fablehaven (the series and single books) by Brandon Mull as favorites. They've read them multiple times, and are always wanting to tell me about it or read me lines. I keep having to remind them "no spoilers" because I haven't finished the series yet.
In addition, my 10 year old likes Eclipse. She's begged me for years to read the Twilight series by Stephenie Meyer, and I finally let her start (although she did read Eclipse w/o permission). I asked her to clarify if she was favoring the series or just Eclipse, and it's just Eclipse. I'll throw in my 2 cents as well. Many people don't like New Moon (the second book), but give it a chance. I definitely think it captures the most emotion, and I do think it shows Bella and Jacob's relationship better than Twilight showed Bella and Edward's. But, Eclipse is also my favorite of the series.
Lastly, my teenage son recommends The Ranger's Apprentice by John Flanagan. It's a series favored by a lot of boys, featuring Will, who starts as an apprentice to a Ranger, an elite soldier in medieval society. Fighting and coming-of-age, falling in love, making mistakes - all captured in a believable male character.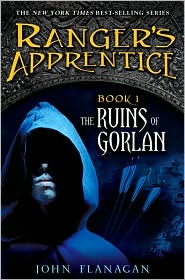 I know it's just a few, but those are our favorites. And to end the list, my favorite. I think this is one of the best series written in the last few years. And, as a social commentary, I think everyone (old enough) should read this book: The Hunger Games by Suzanne Collins. The last book in the series, Mockingjay, gets released later this summer.